October is the time of year when kids wear Halloween costumes and trail around the neighborhood, knocking the doors and asking for treats. This is an old Halloween tradition; however, very few people know the origin of the phrase 'Trick or Treat.' Let's find out where did it come from?
Most traditions associated with Halloween are borrowed from four different festivals, namely:
–          The Roman Pomona festival
–          The Roman Feralia festival
–          The Celtic festival
–          All saints' Day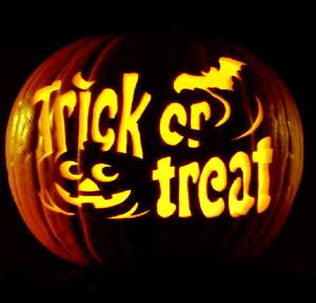 Image Courtesy  – http://www.ledgeviewwisconsin.com/                                                    

The practice of wearing masks and dressing up as evil spirits comes from the Celtic tradition. The Celts believed that dressing in white costumes and impersonating evil spirits will help the dead overlap and roam the earth again as they enter the new year. By dressing up like evil spirits, the people decided to fool actual spirits.
The tradition of 'trick or treating,' or 'guising,' began in the Middle Ages. At that time, children and poor adults used to dress-up in the aforementioned costumes and roam around the neighborhood during Hallowmas, begging for money or food in exchange for songs and prayers. It was believed that these kids and adults were doing so on behalf of dead.
An example of song from 19th century is as follows:
"A soul! a soul! a soul-cake!
Please good Missis, a soul-cake!
An apple, a pear, a plum, or a cherry,
Any good thing to make us all merry.
One for Peter, two for Paul
Three for Him who made us all."
Interestingly, this practice didn't continue for a long time. It re-emerged after 1920 and paused for a while during WW II. However, it's now back in full force. Now that you know a little more about the tradition, it is time to 'trick or treat.'
Have any Halloween costume ideas? Share your ideas in the comments section. Need translation for Halloween messages? Contact us!