Legal paperwork of any kind is difficult to complete. Depending upon the length & nature of the documents, completing them can lead to a significant amount of stress. And when the paperwork is in a different language than yours, or the one that you're unable to speak fluently, things get even more complicated. In such a scenario, documents translations services help in accurately translating legal documents.
Whether you're producing documents in another language, or dealing with legal documents yourself, a professional document translation service helps you in saving a lot of time and stress.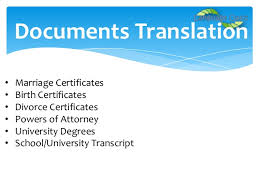 Here are the benefits of hiring professional documents translations services:
Resources
Just like a commercial property owner would hire a professional for their major renovations as they have the right resources and equipment. Similarly, a company should hire a translation service as they have the right resources in their field. When you hire the services of a professional document translation company, you get access to a massive pool of highly experienced professional linguists. And the best translation agency has expert translators who have specialization in certain fields such as legal, medical, marketing, or website content translations among the other areas. These expert translators have the extensive knowledge &understanding of the customer base and market that they translate in the language that you need.
Accuracy
Accuracy is something that cannot be compromised when it comes to translating legal, medical, marketing, or any other kind of document. Unless you are hiring a professional translator, you are compromising on the accuracy in the language. A professional documents translator not only translates the language but also ensures that everything is written correctly without any errors.
Save Time
Not every business (in fact, virtually no business) has the time and energy to translate documents. This is the reason why hiring an outside professional documents translations services is extremely advantageous. You can devote your time, energy, and expertise to more critical tasks while specialized translators fulfill your translation requirements. By this, you don't end up wasting your precious time worrying about how you'll get your documents translated and who will do it for you. Once you hire a skilled professional, then you can rest assured that they will provide you with accurate and flawless document translation services.
Therefore, the advantages that professional documents translations services provide to business make it essential for business organizations to hire one!