Marriage Certificates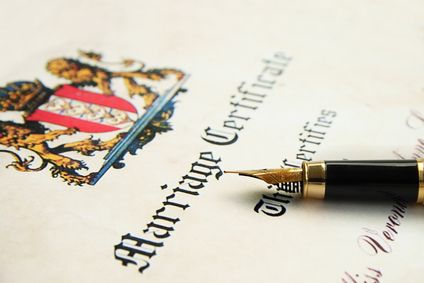 Have you found your other half in another country and you want him/her to join you? Are you both from a foreign country and planning to emigrate to the United States? Then there are some documents that you need to translate to be able to get a visa into the United States or to get a visa to join your spouse in another country. The marriage certificate is definitely one of those documents that you need translated to prove kinship and to verify relationship.
Language Oasis is the right place for you to translate your birth certificate whether it is in a language other than English and you need it translated it to English to be able to enter the United States or to be granted the status of a resident or an immigrant by USCIS, or whether it is in English and you need it for purposes to travel abroad or to register your marriage abroad as well.
Language Oasis provides translation of marriage certificates into one of more than 65 languages. Our professional team of translators in all languages will take care of the minute details on your marriage certificate, as accuracy is a must when translating this type of documents, especially when it comes to the names of the spouses, the date of marriage, the place of marriage and more information about the marriage ceremony.
The translations Language Oasis offers for marriage certificates are accepted by USCIS and other authorities and agencies, such as embassies, insurance companies, employers and others.
Get your marriage translated for $27/page (A page is maximum 250 words). The translation will be certified and official. Some local and foreign authorities require notarization in addition to certified translation. You needn't worry as Language Oasis provides notarization as well if necessary. It is always best to check with those authorities if notarization service is required. And if you need the hard copy shipped to you, Language Oasis uses the USPS Priority and Express Mail services. The notarized and shipped copies will come in full color with raised seal and with an ink signature.
Should you have any questions, please contact our professional Support Team to answer any of your questions and address any of your concerns. Support can be reached live on chat on our website (www.languageoasis.com), or by phone at 888-670-3369 or by email at support@languageoasis.com.